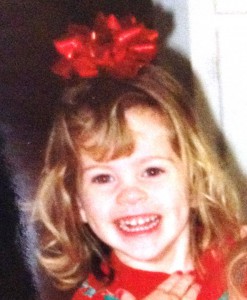 In March of 1998, a heart wrenching story appeared in the Health Living Digest, part of the Anton Community Newspapers.  As we approach the 17th Annual Tulip Festival Dinner (benefiting Making Headway Foundation), it bears repeating why we started this event in the first place with the story of Allison E. Trunz.  The article was called, "A Mother's Story" and here are some excerpts.
"Allison had within her brain a very large primitive neuro ectodermal tumor, that not only had calcified, but had spread to the left side of her brain….She simply had too many strikes against her."  The doctors told them, 'Think about how you want to spend the little time you have with her.'  Who of us could withstand the heartbreak and sorrow of such a pronouncement?  While the Trunz family searched for answers, they came to understand that even with the best treatment, that their daughter's fate was determined and the treatments that showed so much promise were just not working.  As her mother, Jeannie, finally recounted in the article, "On August 12, 1997, after amazingly clearly listing all those people she loved and singing You Are My Sunshine to her parents, Allison quietly died at home."
The Trunzes immediately started to work with the Founders of Making Headway Foundation, Edward and Maya Manley, to host an event that would both honor Allison and raise funds so that other children could be helped by the Foundation's work.  The 2014 "All-is-onE" Tulip Festival Dinner and Casino night will be held on May 14 at the Swan Club in Roslyn, NY.
To read the entire article https://www.dropbox.com/s/3ynvzaxtpoyojrr/A%20Mother%27s%20Story%20-%20Trunz.pdf
#Tulip2014 – For tickets or to donate to this event, please go to www.bit.ly/Tulip2014
https://makingheadway.org/wp-content/uploads/2017/04/greenicon-01.svg
1
1
mhadmin
https://makingheadway.org/wp-content/uploads/2017/04/MakingHeadwayLogo-2.png
mhadmin
2014-04-01 18:11:00
2017-06-20 15:39:19
A Mother's Story